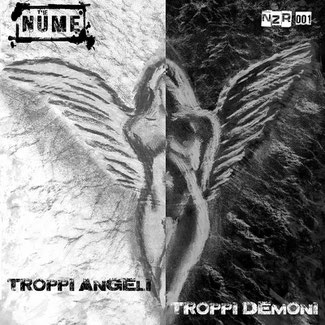 La band The Nume, nasce da un'idea di Sergio Marini che, promuovendo una iniziativa benefica a favore delle vittime del terremoto di Amatrice, raduna numerosi musicisti attorno ad un progetto chiamato "Opus Musicae", per scrivere, comporre e produrre brani musicali con lo scopo di dare un messaggio che rimane nel tempo. Il nome "The Nume" può essere letto in italiano, in inglese ed è un semplice incipit della parola "nu-metal",il sound che la band romana intende proporre, ispirandosi a realtà internazionali quali Linkin Park o Limp Bizkit. Il brano "Troppi angeli, troppi demoni", prende spunto da quanto succede, specialmente nel mondo dei social network, quando una catastrofe come un terremoto, colpisce migliaia di persone, diventando una moda per cui tutti si ergono a paladini, ma che finisce nel dimenticatoio pochi giorni dopo. Un brano crudo, esplicito, ma dalle sfumature colte, che richiama nei testi anche la storia del rap italiano, con riferimenti a Frankie Hi Nrg Mc, che illeader della band, Sergio "Sygma Mc" Marini, considera il suo maestro ispiratore. Una band nata per distaccarsi da quelloche è la scena hip hop/rap/trap italiana che, a parere dei The Nume, paradossalmente non ha più contenuti da esprimere, scadendo nella ripetitività dell'autocelebrazione continua. Prodotti allo YouPlay Studio di Roma, per questo brano d'esordio, i The Nume vedono la partecipazione di Fabrizio Proietti, già chitarra dei New Disorder.
L'artwork della copertina di "Troppi angeli, troppi demoni" è opera di Cristiano Salvati.
I The Nume sono:
Sergio "Sygma Mc" Marini: Voce rap, cori.
Francesco Lattes: Voce, cori.
Cristiano Salvati: Chitarra.
Emiliano Baccini: Basso.
Daniele Zangara: Batteria.